By Emma Jabbour
This year there were multiple students from Ponte Vedra High School that competed in the science fair. Many of these students were extremely successful in their findings and won impressive awards. It is safe to say that the students from PVHS worked hard on these projects and blew away the judges.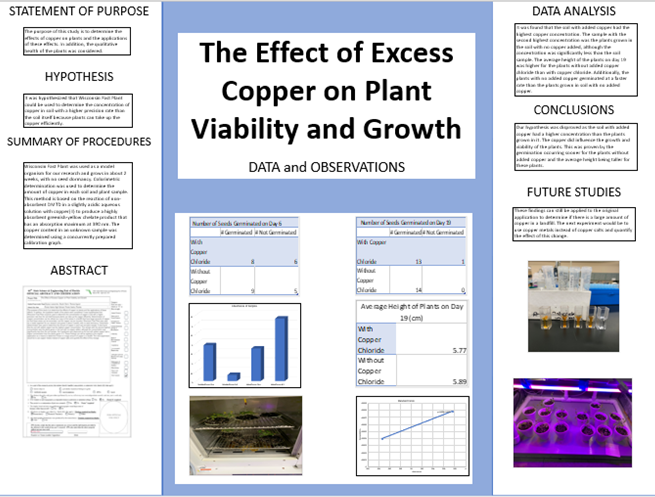 PVHS senior Alyssa Lassonde and her partners Skyler Demi and Teresa Aguiar, who are also seniors received Honorable Mention for the Environmental/Plant Sciences category. Their group hypothesized that the Wisconsin Fast Plant could be used to determine the concentration of copper in soil with a higher precision rate than the soil itself because the plants can take up copper efficiently. They found that the soil with added copper had the highest concentration. By day 19, the average height of the plants without added copper chloride was higher than the ones with it. The plants with no added cooper germinated at a faster rate than the plants grown in the soil with no added copper. The group knew they wanted to do something with plants, and they decided to use the Wisconsin Fast Plant because it is a model organism in research. One of the surprises that Alyssa and her team faced was that the soil with added copper had a higher concentration than the plants grown in it, disproving their hypothesis. Alyssa said that her favorite thing about competing in the science fair was interacting with the judges and answering their questions about her groups projects. Alyssa said that "participating in the science fair was a great experience and I highly recommend anyone that is interested in research to participate in it in the future."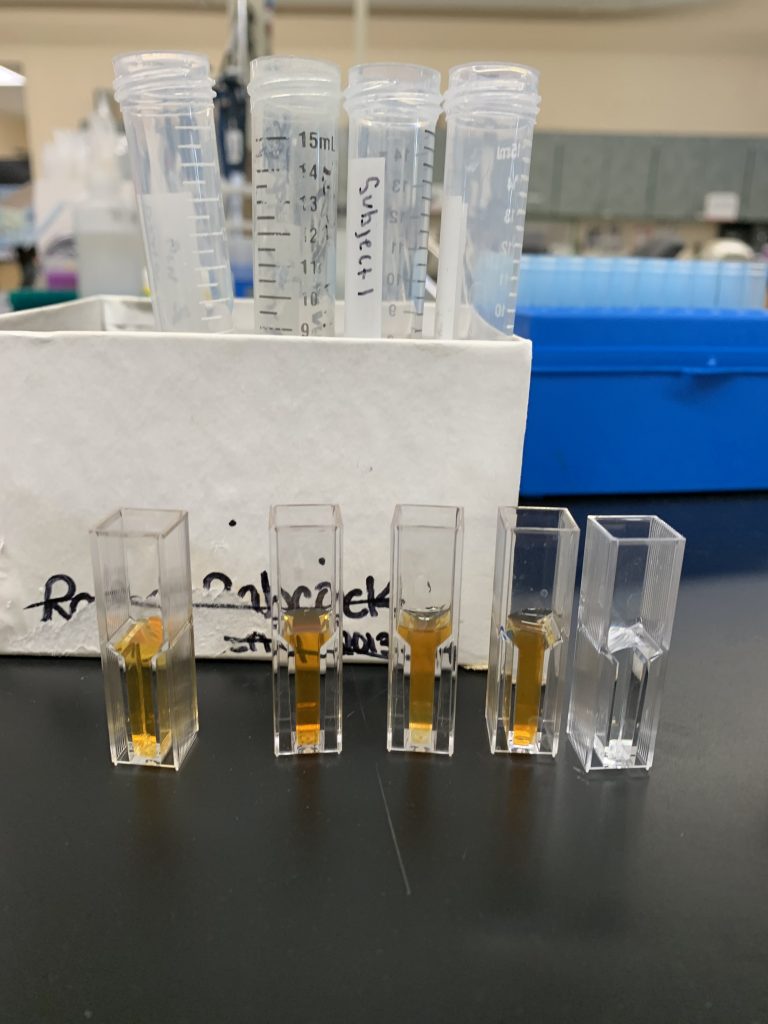 Lauren Kurlowicz is a senior and her partners Jerson Milan and Kelvin Shi won honorable mention for the environmental science section. Her group was studying the possible presence of genetic material to code for HSP70 in troops. Lauren said, "we found that some genetic material, but more testing is necessary for further results." They were inspired to do this project by the growing concern for the stability of marine life due to climate change. They faced surprises in the later half of the experiment when they had trouble visualizing their data in gels. Her favorite part of the process was doing their own experiments without it being a part of the curriculum.  
   Senior Abby Kee and her partners Samantha Strong and Stephanie Hernández won the EPA award, NASA award, and placed 3rd for the environmental category. They were trying to lessen the effects of eutrophication by delving into pond snails' abilities to digest algae. Abby said "we found that pond snails have pectinase and cellulase present and are therefore able to digest algae due to the presence of heredity genes. She said, "I conducted a PCR test to check for these heredity genes, and used brown planaria as a control, for they do not typically digest algae." The inspiration behind this project was the insidious effects of eutrophication, as the aquatic life below perishes once the algae die and begins to decompose. One of the biggest surprises during this project was that there was so little work done on pond snails and fixing these issues. Due to genetic modification in nature being relatively new, there is nothing on altering snails to combat eutrophic disasters. Abby said that "it was nice to take the time and think through a problem that I would like solved." She felt that it was great to talk to other scientists about her thoughts on this issue. It was disheartening to not have a solution to a man-made issue but hopes that our generation will be able to solve it in the future.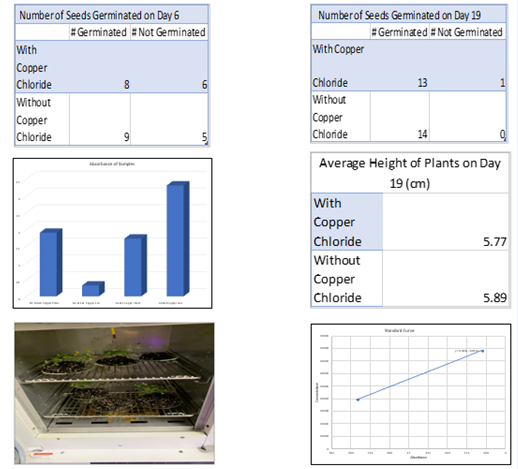 Senior Andrew Kupcha and his partners David Vanlue and Aiden Fong are also seniors. The main idea of their project was to take various spices and herbs and grind them up, add water, run that through a large filter, and then add them to a bacterial plate to see if they affected the growth. They found that only three herbs and spices had any significant affect and those were Peppermint, Turmeric, and Cinnamon. They identified this by comparing the rates of growth to a modern antibiotic called Ampicillin. They were inspired to do this by the current pandemic, plague doctors from the 1300's, and the shortage of novel antibiotics. He said, "we knew plague doctors' ideas of what prevented disease were incorrect, but we wanted to see if any of the fragrant they put in their mask actually did help." As for surprises, the ampicillin they used was old which caused it to stop working and made it hard to identify how effective it was. But besides that, and Turmeric, all results were predicted. Andrew says his favorite thing about competing in science fair was "getting to work with and compete with all my friends that I've been in biotech with all the last four years." David said, "my favorite thing about competing in the science fair was being able to apply all the techniques we have learned into one project." Their group got first in their category of Biomedical/Cellular/Microbiology and won the St. Johns County Medical Alliance award. This means that their team is going to states.
These projects obviously had a lot of work put into them and the participants have accomplished so much already. The science fair is an excellent opportunity for students interested in research to highlight their knowledge about something they are passionate about. The science fair has opened a door for students to dive into research and find solutions to problems our world may be facing.