Caroline Hughes: Getting Out of Your Comfort Zone
By Ava DePersio
An athlete, a disciplined worker, and a person who does not let fear get in the way of trying something new. Caroline Hughes is always looking for ways to get out of her comfort zone, and always tries to do the best she can.
Caroline Hughes is a Ponte Vedra High School (PVHS) senior, and has always been internally driven. She is always looking for ways to get out of her comfort zone, which has driven her passion for sports, and it shows, as she is a four sport athlete. Caroline plays soccer, competes in weightlifting and wrestling, and is the first female ever on the PVHS football team. "My freshman and sophomore year I [played] soccer and weightlifting… junior year I [played] soccer, weightlifting, and wrestling," and now in her senior year, Caroline can add 'football player' to that list. Since Caroline has always had a love for sports, it was interesting to find out why she wanted to play on the football team. "…the second week of school, I… wanted to take weightlifting but it was for football [players] only, so I said 'Sign me up."' Caroline is currently a kicker for the Junior Varsity (JV) team, and describes the team as being, "[A] family, and makes me feel like a [true] team player." She loves all of her sports, and loves how football is "…not seen as normal for a girl to play." Having one fall sport and three winter sports can be very difficult to manage, but that does not stop Caroline from excelling in her academics as well.
Playing football is something Caroline loves to do, but being a girl in a mostly male dominated sport can be intimidating. "[The coaches] were all welcoming… [the players at first] were like, 'What is she doing here?'… but they all took me in." With being the only girl currently on the PVHS football team, there are some challenges that come with that. "The only thing that stinks… is at home games, they meet in the locker room and [listen to music as a team] … and I have to stay out in the hall." Caroline explained that for JV games, there is usually not enough time to get dressed in locker rooms at away games, so changing at away games is not an issue, but the uniforms are. "Football pads are not made for girls… that is a struggle." Those challenges do not stop Caroline from loving the game. Nothing in the game has been modified for her, and when it comes to playing other teams, being a girl is not a setback, because they usually do not know. "They do not even know [until the end of the game] that I am a girl. They always react like 'Oh my gosh, a girl,' …it really throws them off." Playing on the football team is what Caroline loves to do, and the coaches are happy that she is a part of the team.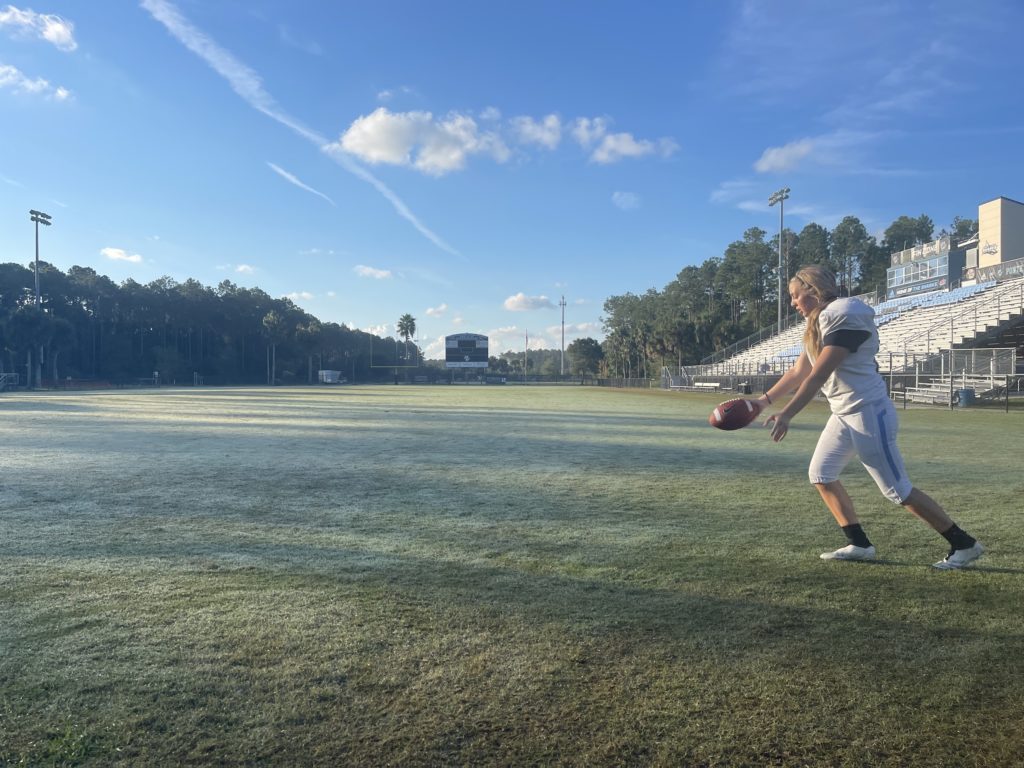 A girl playing on a football team is not unheard of, but it is also not common, especially for the PVHS football team. Caroline is the first girl ever to play for PVHS, and head football coach, Coach Stephen Price, was happy to have her on the team. "My first year coaching was in 1992… [Caroline is] the first girl [I have coached]," said Coach Price. Caroline showed Coach Price her interest in the football team, and he saw her determination. "We do not normally do this, but since I am new… we were letting people sign up late… Caroline wanted to play, and she adapted well." With Caroline on the team, Coach Price has not noticed any changes, "She stepped in, and became a part of the team." Coach Price thinks this has been a great experience for the whole team, and thinks Caroline is, "…disciplined, does a great job preparing herself physically… and is very driven." Coach Price enjoys having Caroline on the team, and would love to see more female athletes on the team in the future.
Excelling in school is very important for Caroline, as she puts her studies first. Since sophomore year, she has been in all honors and AP courses. Caroline is also involved in the National Math, Hispanic, History, and National Honors Societies. Staying motivated, especially with a busy schedule can be a challenge, but Caroline does not let that stop her. "My internal drive is very high, I want to see myself succeed." She keeps herself disciplined, and likes structure. Caroline plans on going to college, and is interested in U.S Service Academies. "The [interest in U.S Service Academies] started towards the end of my junior year, when [I visited] the Air Force Academy." Caroline has always loved math, so she would love to continue her academics in either premed or mechanical engineering in the military.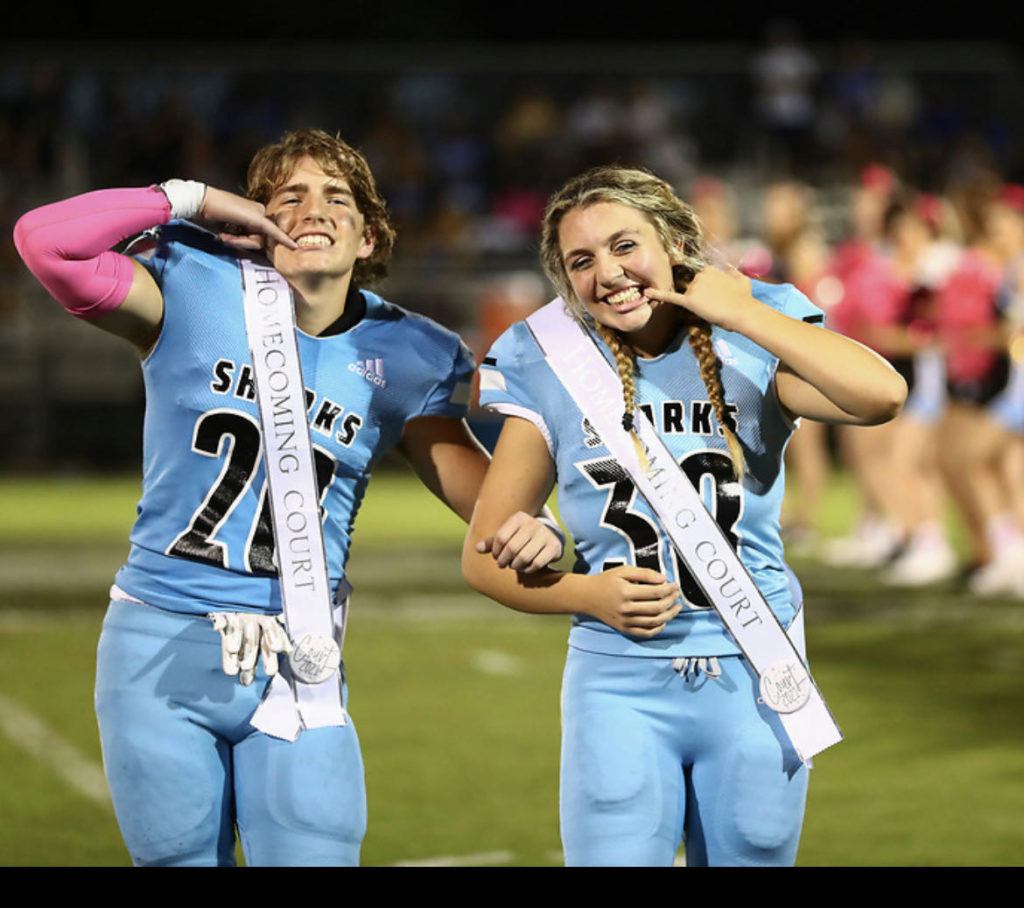 With sports and academics, it can be a challenge to have some free time, but Caroline does not mind. She loves to stay busy. "Anytime [when I am] not in sports or school I want to fill my schedule, I like having no downtime." She loves to have a disciplined schedule that allows her to stay on top of everything. On the weekends, Caroline works at Starling Assisted Living, and loves the interactions with the residents. "I [help out with] dinner and brunch [for the residents], I play scrabble with them… they are like my grandparents." She also frequently babysits and pet sits whenever she can. Caroline was also nominated for the PVHS 2021 Homecoming Court, showing how involved she is at PVHS, outside of sports and academics, and how she loves to try anything. Caroline Hughes is a four sport athlete, disciplined in her academics, and never likes to have a day off. With a motivated and internal drive, Caroline looks for ways to step out of her comfort zone, and excel in everything she does.