By Leila Wickliffe
   Ponte Vedra High School has an extensive catalog of organizations to join and help. Wigs for Kids is a non-profit organization that started about forty years ago. The organization takes both hair and money donations in order to make custom wigs for kids with hair loss. Melissa Marino and Mia Chigounis, juniors at PVHS, started a Wigs for Kids branch at school at the beginning of this year. Both of their grandmothers were diagnosed with breast cancer. "I saw it firsthand, and I wanted to help kids. Wigs for Kids provides wigs for free to children if they have cancer," Marino explained their mission, and added that it helps these kids feel better and find a sense of normalcy after losing their hair.
Wigs for Kids is a nationwide organization and has helped many children over the years. The founder, Jeffrey Paul, said, "Children shouldn't have to worry about how they look, especially when they're in the middle of a health crisis. We want to give these kids the opportunity to feel good about themselves again." Marino cited they have already had many donations made, and have been consistently contacted about possible donations throughout this year. They have already collected about $2,000 in donations. Each wig costs about $1,800 as every wig is custom made and takes about ten hair donations, so their goal is $18,000 to make ten wigs. "There's a drop box here, and people can drop off their hair donations," Marino promoted the ease of donating hair to their organization. She hopes that this will ease any concerns about traveling somewhere to drop off hair. "There's a lot of people at our school with long hair, and if they cut it they should donate it for a good cause," Marino added. There are some requirements to donate. "Ideally, the hair donation should be at least 12 inches long, and it cannot be color treated or permed," Marino explained the requirements. People can contact either Marino or Chigounis about donating it, and they can drop it off in the drop box on campus.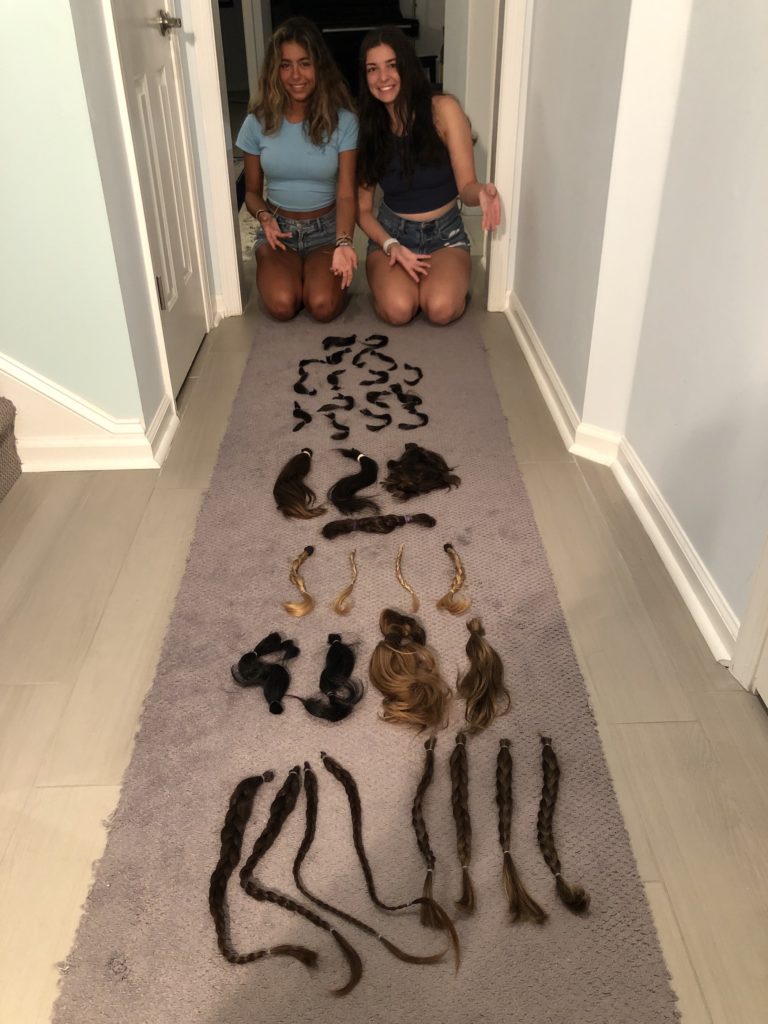 Melissa Marino and Mia Chigounis with some of their donations
Chigounis and Marino hope to promote the organization across the community. Recently, both girls spread the word on the local news station River City Live. They have flyers at multiple schools including Ocean Palms Elementary and Alice B. Landrum Middle School. An informational flyer is on PVHS's newsletter, Sharkbytes, where people can directly contact Marino and Chigounis about donating hair or money. For students, they can find the organization on Instagram @miaandmelissahairdonations and donate through a link in their biography. Marino hopes to expand their reach by adding drop boxes like the one at PVHS to other schools, so more people are encouraged to donate. She also hopes that the National Honor Society at PVHS can help promote it, so students can help a child in need while earning service hours. "Right now, we only have a drop box here, but I think eventually we can expand and put drop boxes other places," Marino predicts and hopes to eventually do a fundraiser. Marino has high hopes that people can be encouraged by the ease of donating and the knowledge they are helping a child in need.