By Sasha Crowe and Amelia McDonough
The Yard, known for its 'Instagrammable' desserts, is a milkshake bar that has brought the milkshake to a whole new level. It was founded in 2017 by the husband-and-wife team Logan and Chelsea Green. "Chelsea knew she wanted it to be like no other dessert place she had ever been to and decided that crazy specialty milkshakes are just what they were looking for," as described in The Yard's 'Our Story'. The first location was opened in May of 2017 in Logan and Chelsea's hometown of Gulf Shores, Alabama. Two years later, The Yard made its debut on the reality television show for budding entrepreneurs called Shark Tank. On Shark Tank, Dallas billionaire Mark Cuban offered $400,000 for a 22 percent stake in the company, but the deal was never finalized, post-production. Nevertheless, the show offered a great deal of attention and spotlight to the young company. Presently, there are 23 operating locations across 11 states in the country.
Other than their elaborate milkshakes, The Yard's extensive menu also includes specialty ice cream bowls and edible cookie dough with gluten free and vegan options. Each month The Yard features monthly specials that pertain to seasonal festivities. For December, the monthly specials showcase the Christmas Cookie, 'Tis the Season, and Peppermint Frozen Hot Chocolate milkshakes. The year-round menu includes 17 unique milkshakes, priced at 17 dollars each, with the glass mason jar included.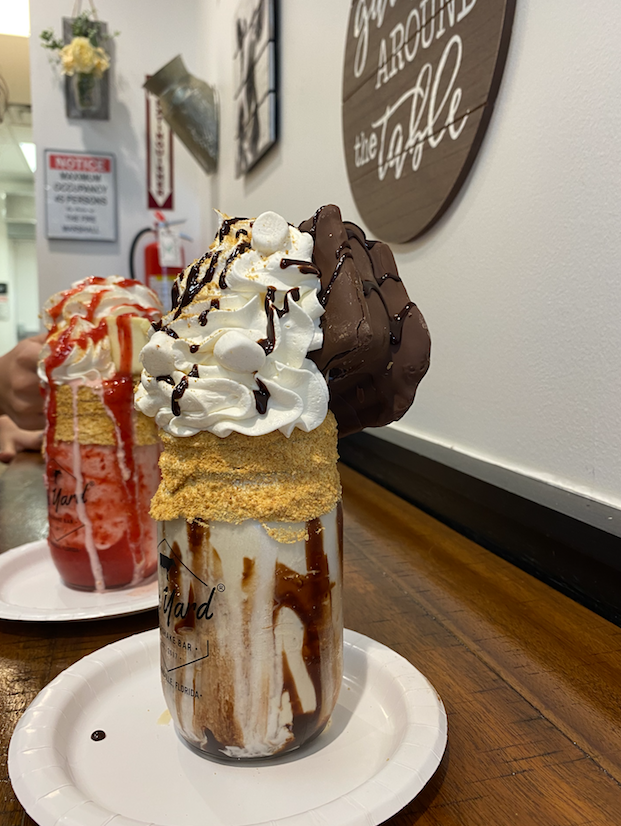 Two of The Yard's milkshake flavors: S'mores and Strawberries and Cream Cheesecake are some of their most popular items. The S'mores milkshake includes graham cracker and marshmallow ice cream in a marshmallow dipped jar rolled in graham cracker crumbs. It's topped with whipped cream, mini marshmallows, crushed graham crackers, chocolate drizzle, and a giant s'more. The Strawberries and Cream Cheesecake milkshake incorporates strawberry ice cream in a vanilla iced jar rolled in graham crackers. This milkshake is heavily topped with whipped cream, strawberry drizzle, and a whole slice of New York cheesecake. Upon first appearance, both milkshakes lived up to the extravagant advertising. The milkshake images on the menu match adequately. Nutrition wise, the milkshakes will suffice your calorie count for the whole day as they are averaged at around 1,700 calories each. The s'mores milkshake holds 1,807 calories and the cheesecake shake has 1,734. The s'mores and cheesecake milkshakes also contain around 180 grams of sugar each; which is expected. A trip to The Yard is an experience to share with a group, as the milkshakes are sharable.
The overflowing toppings and decorated rim are the first stage of the milkshake a consumer is met with. The toppings are a dessert in itself, and the actual shake has a thick and creamy consistency. There are syrups and toppings added within that set it apart from a regular milkshake. The Yard is worthwhile as a 'cheat meal' as it provides an innovative milkshake experience.