By Elliot Kantor
So, you've learned how to cook rice without burning it, stir fries without launching vegetables everywhere, and pico de gallo without under-seasoning your tomatoes. Now it's time to put it all together. The goal is to make an (inauthentic) homemade taco night without using store-bought tortillas or packets of taco seasoning mix. With tortillas, a protein, and toppings, you can customize your tacos to your liking, all within half an hour.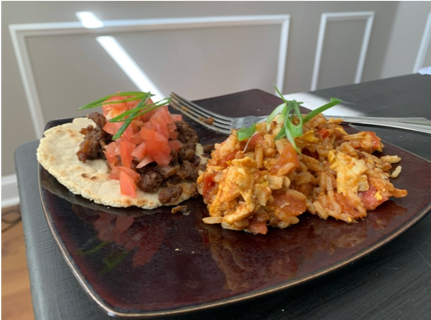 Let's start by making homemade corn tortillas. By far the simplest tortillas to make, corn tortillas require only masa harina and water, in a ratio of about 1 cup flour to a bit over half a cup of water, enough to make it stick together but not stick to the counter. After combining, let it rest as you prepare the next ingredients.
For the main base of the taco, you could use ground meat, whole chicken pieces, tofu, beans, or any other sort of protein. Either bake or sear the protein using a combination of chili powder, cumin, paprika, garlic, and any other flavorful spices or ingredients. Using powdered ingredients makes the preparation a lot faster, too. Either bake the chicken or fry the beans or ground meat until cooked through and set aside.
Although I've written about the ins and outs of making pico de gallo – and why you should taste your food – here's an overview: dice tomatoes and salt them. Add onion, garlic, pepper, chilies, and lime juice, and season to taste. With confidence, this part can take three or four minutes.
To cook the tortillas, a cast iron skillet works best because of its high heat capacity. However, without one, a griddle could work, although be warned not to use too high of a heat in non-stick pans for safety reasons, especially if you have a pet bird*! Oil is optional, but possibly could work better in non-stick pans. To shape the tortillas, a tortilla press is the most efficient option. Place a small amount of dough in between parchment paper or wax paper and flatten as much as possible. You can get similar results by placing the dough and paper on the counter and lean your weight on top of a baking dish to flatten the dough. Alternatively, you could just flatten the dough with your hands before cooking! Place the dough on the preheated skillet and cook until browned, flip, cook, and remove to a plate covered with a clean kitchen towel.
* Small birds are especially susceptible to possibly toxic fumes that are released from non-stick pans at high temperatures.
To assemble the tacos, prepare the hot tortillas on warmed plates and top with your protein of choice. Add pico de gallo, lime juice, and any other toppings, including sour cream and cheese.
Homemade tacos are a welcome upgrade from the typical beef-and-flour version found across American dinner tables. With a few minutes of prep for protein, tortillas, and toppings, a delicious Taco Tuesday is only a few minutes away. With the help of your family and specialization, it could be even faster! Hopefully by practicing a reliable and delicious weeknight meal, you will find that homemade cooking is worthwhile and, with a bit of practice, practically effortless.