PV Sharks Football Update
By Chloe Goode
Coming off a tough loss against their rivals the Nease Panthers, the Ponte Vedra High School Sharks went into their first away game against the Episcopal Eagles with a "take no prisoners" mindset. They wanted to make up for that last game and more. That fire proved successful as the Sharks went home with not only their first win of the season but a 34-0 shutout. This win truly was a team effort, as both sides of the ball executed exactly what they needed to do in order to stay on top. Whether it was making big plays to rack up points or the impenetrable defense holding the Eagles at bay, everything was done perfectly, just like they practiced. This win brought their season record to 1-1.
Starting off with a bang, the Sharks defense put up an early lead in the first quarter when senior, linebacker Luke Pirris got an interception and took to the house for six. Shortly after, senior, running back Nolan Parlette scored a rushing touchdown, bringing the score to 14-0 in just the first quarter. The Eagles had a lot of ground to make up but thanks to the Sharks immovable defense, with major contributions from junior, Kingston Kamaal, they could not find an answer. Keeping the momentum going, junior, wide receiver Wyatt Rodgers caught a pass in the end zone, squashing any hopes the Eagles had left for a comeback. However, the offense were not the only stars of the show, PVHS' defense was formidable and much more than a match for Episcopal's offense. They held their quarterback to under a fifty percent completion rate and just one hundred and fifty yards throughout the entirety of the game causing his QB rate to be a mere twenty-three and a half. The wide receivers were held to just thirteen receptions, none of them coming with a contributing to their score. The Eagles running backs had even less luck combining for a total loss of three yards in nineteen carries. Their offense all together only gained a total of one hundred and forty-seven yards, while PVHS had three hundred and forty-nine yards, more than doubling Episcopal's positive yardage. Overall, the Sharks defense really shined racking up stats showing forty total tackles, two sacks, and three interceptions all in one game.
Coach Price's team continued to practice hard and make improvements day after day in order to be fully prepared for their game. He explained, hard work is something they will continue to push upon the players in order to build off the winning momentum, and strive to continuously improve every day. The factors in this game were the continual good playing by their defense and special teams. The game was full of exciting events and he said, "I had many good memories, but I really enjoyed Luke Pirris' interception for a touchdown." Pirris has the perspective of a true winner; he wants to continue to improve his mental aspect of the game and focus on reading his keys better. He feels strongest about his pass coverage and blitzing ability but wants to get better at tackling. His ultimate goal is to make a deep run into the playoffs, but for himself he wants to stay humble and continue to improve weekly. This game Pirris and his coach had each other in mind as his favorite moment was "celebrating Coach Price's first win at PVHS when the game ended." This whole Sharks team has their eyes on the prize and are willing to work nonstop until they achieve their end goals.
The shutout game was complete with a perfect movie style ending when the team celebrated by dumping a cooler full of Gatorade onto head Coach Price. Not only were they celebrating the win in general but also Coach Price's first victory as a coach for the Sharks, wrapping up what could only be described as an incredibly successful night for the Ponte Vedra Sharks.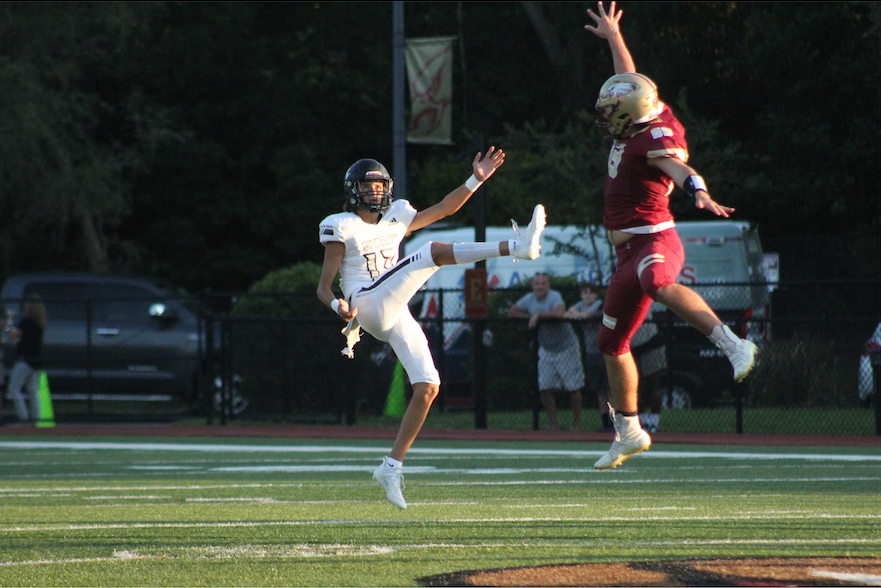 Bobby Kegley
Running Back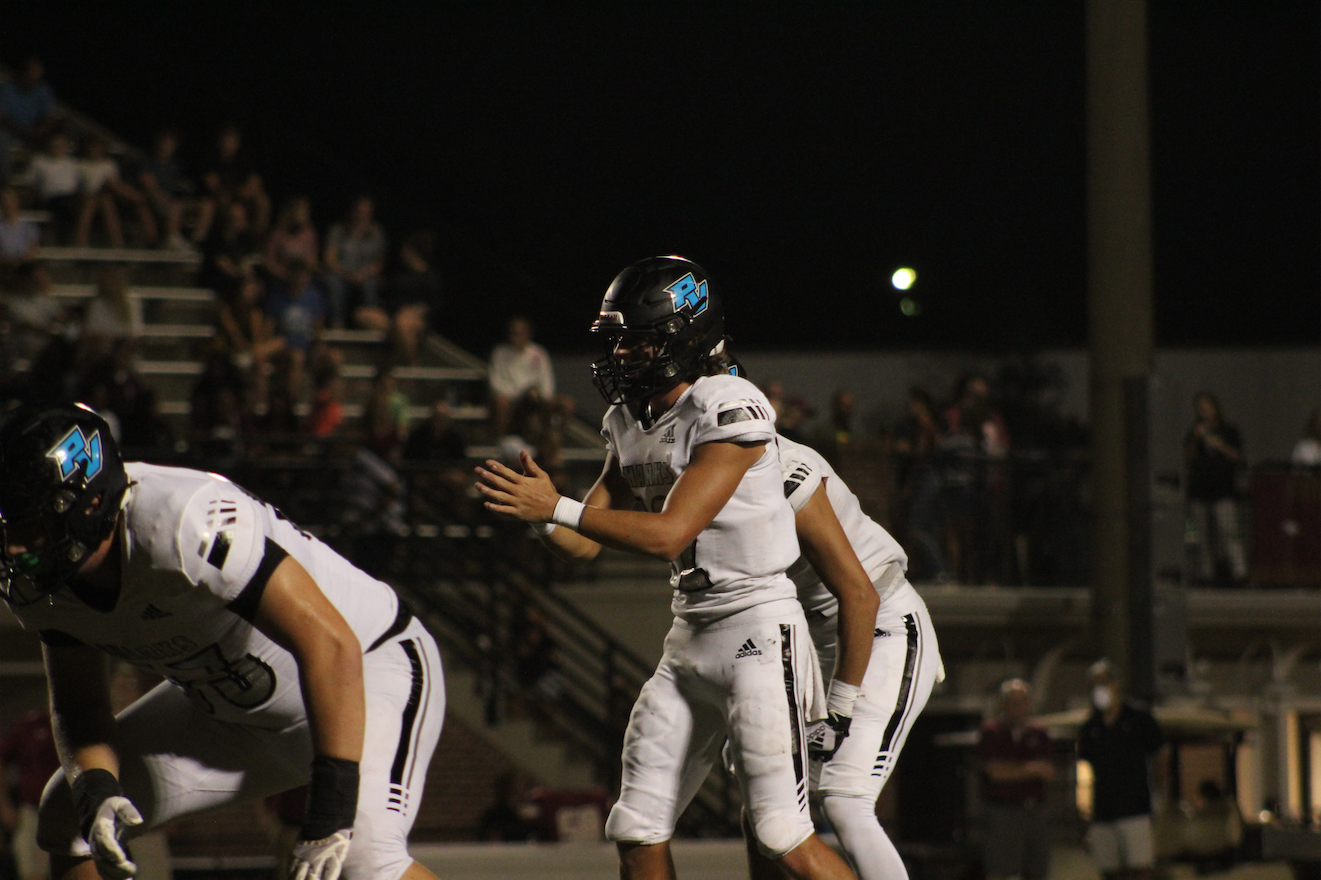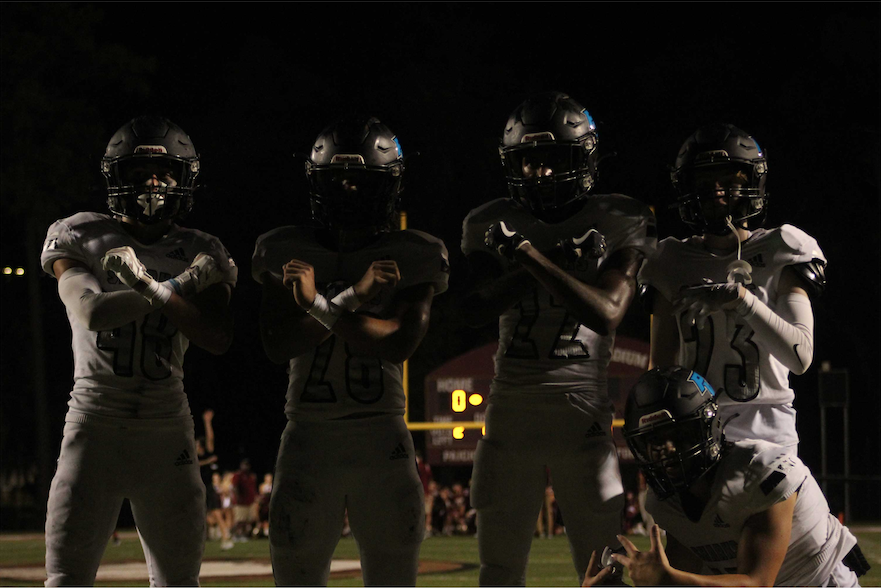 Jarrel Jiminez, Joe Mahoney, Griffin Owen
Left to Right
PV v Baker County
Coming off a huge win on the road, the Ponte Vedra High School Sharks tried to keep their momentum going when facing Baker County High School. However, it ended in vain as Baker County went home with a 26-7 win. Nevertheless, the Sharks did not go down without a fight, keeping the deficit within range the entire game. The crowd was never without enthusiasm as the USA decked out student section was roaring the entirety of the game, complete with crowd surfing. Every time a huge play was made, the crowd got louder. You cannot deny the energy and spirit behind the Sharks bench, keeping them motivated and energized when playing.
The Sharks fought long and hard but just could not keep Baker County's running backs out of the end zone. It was a tough matchup, and Baker County proved resilient and kept up momentum on both sides of the ball, contributed to a couple hundred yards on offense and numerous sacks and tackles. For how high those stats were, PV stood their ground keeping them mostly out of the end zone only down by 19. Sadly, offense could not generate enough points to comeback from behind. Some key plays made by the Sharks on defense include an interception in the end zone to prevent another touchdown in the second quarter. Even special teams had some luck when they converted a fake punt and recovered a punt during the fourth quarter. The only offensive scoring success they had came when senior, running back Nolan Parlette scored a rushing touchdown in the fourth. Even though the score is contradictory, PVHS proved a tough game and continued to push despite the score deficit.
This game leaves the Sharks with room for much improvement and motivation as they continue down the long, difficult road of their season. Junior, wide receiver Wyatt Rodgers gave credit where it was due, explaining that Baker County was a tough team and had strong linebackers that were always in the right place at the right time. He understands that they could not get the run game going, preventing them from opening up their playbook. However, he acknowledges the grit of the defense, especially in the red zone, as they made many stops even through exhaustion due to the amount of time they had to spend on the field. Rodgers' philosophy after each game is, "all we can do is learn from it and move on, we're 0-0 as each new week starts." Likewise, Coach Rosendahl credits Baker County as one of the best football teams in Northeast Florida this year. He explains that PVHS lost the battle in field position and turnovers, stating that against a team this good that is unaffordable. To him moving on from this game and any loss is never easy but, "if this game of football was easy, then everyone would be doing it, and we would be out of a job." PVHS is a competing school, and these boys will not sit around after a loss but see how they can get better. He is proud that his team focuses on the positives they can take from each game and not the frustration. "We will play the next play as hard as we can, and we will compete." Their goals remain the same, practice hard, play hard, compete, and win every week. He loves that Head Coach Price has created the culture that after you get knocked down, you will get back up. To wrap up he quotes his head coach, "success is not forever, and failure is never fatal."
With three games down and only one win, the Sharks have a long, difficult road ahead of them. But with the players' desire to continue to improve and work hard, and the mentality and drive from their coaches, anything is possible. With plenty of season left, PVHS can easily turn their record around with hard practices and almost flawless execution on the field, taking them one step closer in their goal for a successful playoff run. Once they have reached their full potential, they are going to be nearly impossible to stop.