By Matthew McConn
The sport of pickleball has typically been played by the elderly. In 2021, roughly half of all pickleball players were over the age of 55. However, younger generations have started to pick up the sport, causing it to become the fastest growing sport in America.
Pickleball was invented in 1965 in Washington state as a tennis variant for children. Pickleball is played on a court about a third of the size of a regulation tennis court. Players use lightweight wooden or plastic paddles and a hollow plastic ball with holes in it to make it less aerodynamic, and thus travel at a slower speed. The rules of pickleball are similar to those of tennis, with pickleball being more dependent on technique rather than power, which may be a reason it has become so popular.
But why has there been such a large push for pickleball? During the COVID-19 pandemic, pickleball offered a great form of socially distanced exercise that was relatively easy to learn and play consistently. Due to the sport requiring less movement and power than tennis, the player can still enjoy the intensity of a rally without the high exertion of energy that is required in a tennis match. According to a 2022 report from the Sports and Fitness Industry Association, pickleball is the fastest growing sport two years in a row, with a 39.3 percent growth in players between 2020 and 2022. There are now 4.8 million pickleball players, or "picklers" across the United States.
Pickleball has become so popular, in fact, that several NBA athletes such as Lebron James, Kevin Love, and Draymond Green have all bought shares in an expansion franchise in Major League Pickleball (MLP). The competition has expanded from 12 to 16 teams and will now offer over $2 million in prize money in the 2023 season.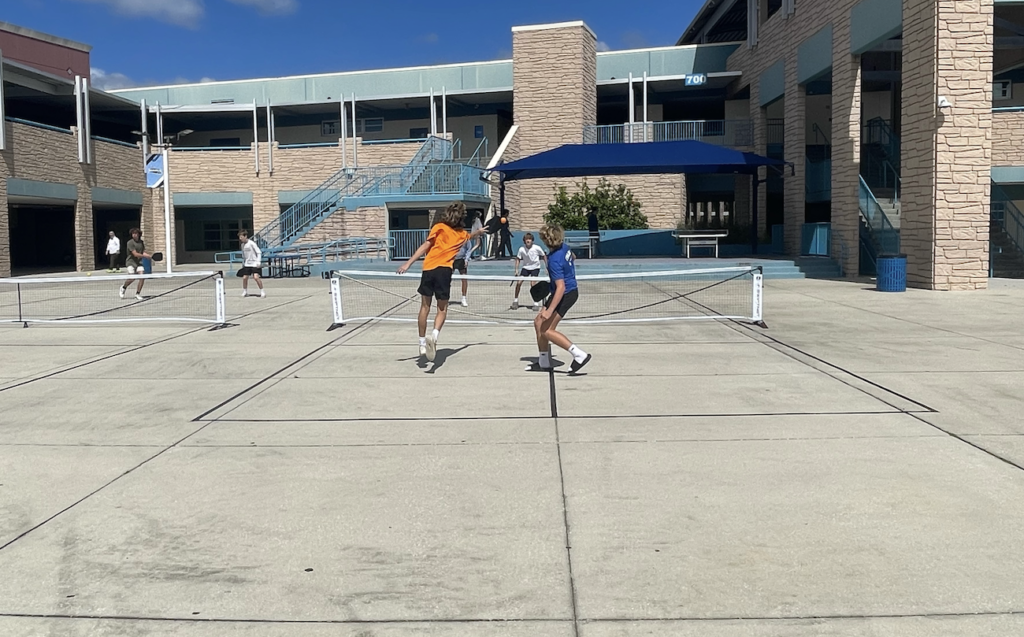 Recently, Ponte Vedra Highschool (PVHS) has added two pickleball courts in the courtyard, and students are lining up to play on them during lunch. Vincent Jackson, co-founder and president of the PVHS Ping Pong and Pickleball Club, believes that pickleball has become so popular because "It is quick, fresh, and the perfect balance between ping pong and tennis." Starting Friday, October 7, 2022, club fair day, PVHS students can join the Ping Pong and Pickleball Club and play pickleball with a "casual, fun-oriented group of students" every other Thursday from 8:35 am to 9:05 am in the courtyard.
Tagged:
pickleball
pvhs