Sharks rout the Panthers for the 11th year in a row
By Natalie Decker
The Ponte Vedra High School football team defeated the Nease Panthers 24-7 at their first game of the season on Sept. 11, the Shark's eleventh consecutive win against their rival in "the Battle of the Bridge". The Sharks were led by Senior quarterback, Jacobi Myers. "Even when their defensive line broke through with a strong pass rush, Cobi was able to keep the play alive, on his feet, scrambling for 19 total yards." Assistant Coach Tim Conroy said. Myers had 199 total passing yards and two passing touchdowns to senior receiver Mikey Olkiewicz. Olkiewicz had 136 receiving yards and scored two touchdowns.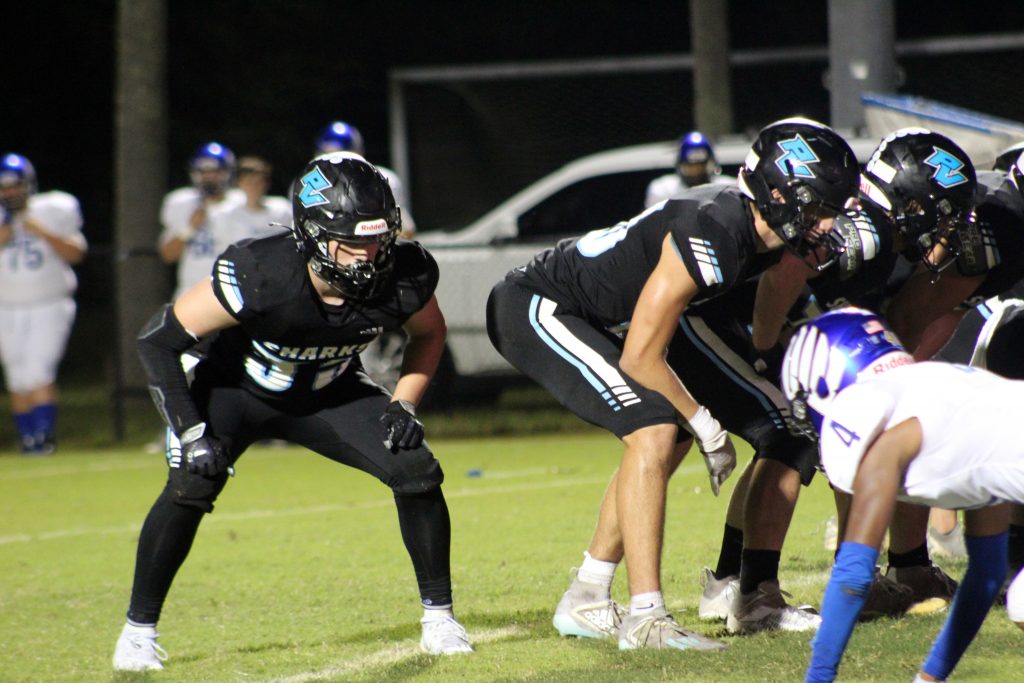 Conroy pointed out "we definitely did not play to the best of our ability… but our offensive line has improved a lot over the summer, doing so much better at protecting the quarterback." The O-line is manned by seniors Joshua Proctor, Alex Hammernik, and juniors Cade Tighe, Xavier Agatep and Micheal Curry. The first touchdown of the game against Nease was scored by star running back Campbell "Soup" Parker, who had 23 carries for 77 yards. Conroy praises, "He runs hard, keeps his head down and establishes a strong run to open up the pass for us." Parker comments on the upcoming season, "it's going to be a long and tough season, we are going to need to overcome adversity and execute what we are practicing." Head Coach Jeff Disandro says, "Obviously the Nease win is always a great team win, although we played sloppy and have lots to improve on to come out with a three-score win… it's something we can build on with the guys to be our focus this week against Palatka. We are so excited to have our quarterback returning (Jacobi Myers) and we have a really strong senior class this year, they've put in the work and are strong leaders."
On Sept. 18, the Sharks beat Palatka High School 42-0, a great senior night for the Sharks. Myers had a 100 percent completion rating, throwing 12 passes for 193 yards. The defense has not given up a single point throughout the first two games. Senior linebacker Shane Bloss led with 12 solo tackles at the Nease game, and 17 total so far this season. Bloss says, "The defense has stayed really focused and we are able to prevent the other team from running the ball. [Palatka] was a good team win and we were able to get some of the underclassmen in to get some reps and see how they play." Sacks against Palatka's quarterback were made by Junior linebacker Luke Pirris and Sophomore defensive end Kingston Kamal. The defensive line consists of Seniors Brandon Hines, John Mazzella, Grayson Galen and Junior Evan Fleischer. Fleischer had 3 tackles for a loss against Palatka's o-line. Senior offensive lineman Connor Hickey comments on the shortened season due to COVID-19, "I think we are making the best of what is left of our senior season… even facing these unprecedented challenges." The sharks follow up with their next game on Sept. 25 against Pedro Menendez High School.