By Elliot Kantor
Learning to cook is not the laborious process that it used to be. Today, we have internet videos, endless recipes, and more time than ever before to learn new skills. Most people know that they should learn to cook, but few know where to start. Why should we learn to cook? And why is there so much fear of making a few mistakes? Cooking provides control: control over the taste of the food, the nutrition, and the price. Also, cooking is just inherently attractive. You don't have to tout advanced knife-skills to make a delicious meal, but it sure doesn't hurt.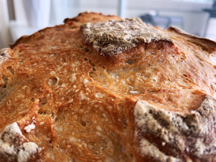 Whatever negative connotations come to mind with the thought of cooking – messy kitchens, burnt food, and wasted time – should be thrown away as we learn that cooking can be fun and easy if done with the right mindset. Sure, it's nice to have an extravagant home-cooked meal once in a while, but the vast majority of home cooking is fast, easy, and cheap. In this series, I'd like to share how learning to cook can be a fulfilling journey, and by the end, you'll have the skills and mindset necessary to learn how to cook anything.
We'll start by learning how to make a simple loaf of bread. It's not as messy as you might think, and the results compete with even the nicest store-bought loaves. Many people have tried making bread in quarantine and given up because it's sticky and frustrating. However, with this reliable rustic loaf of bread, you'll enjoy the process and the result, and hopefully have a new disposition on bread-making.
The Recipe
To begin, gather a cup measurement, a teaspoon, a bowl, and a mixing spoon. To make the dough, mix 2 cups of flour (all purpose or bread is fine), 1 tsp of salt, and ½ tsp of yeast (active dry or instant is fine). Mix it, then add 1 cup of warm water, and gently stir with the spoon until all of the flour has been moistened. No hand-mixing required. Now cover it with a towel and let it sit on the counter overnight, about 8-24 hours.
The next day, transfer the loaf to a parchment-lined baking sheet and let it sit while you preheat the oven to 450 degrees Fahrenheit. Again, we're enjoying the rustic appearance, so the shaping doesn't matter. Then, put the dough in the preheated oven on a baking tray and bake for about 25-45 minutes, or until it's browned nicely. The wide range in time allows you to determine when it's browned enough. That's part of the process. Let it cool completely and serve!
This bread recipe allows you to learn the fundamentals of baking, without the fickle measurements. Flour is absurdly cheap, and the ingredients will last for several loaves. The whole recipe is up for experimentation, so I encourage you to try different things. If it seems too dry, add water. If it needs salt next time, make adjustments! More than anything, cooking is about learning to improvise, especially when things don't go as planned. Maybe your first try won't come out as expected, but don't let it deter you from further experimentation. Perfect is the enemy of good, and for some things, good enough is good enough.