Famed singer and songwriter Alicia Keys is back and better than ever, with her seventh album, Alicia. The album was recorded and written before the coronavirus pandemic and was expected to be released around six months ago. Although we are at a dark time in society, Keys elected to remain with uplifting themes of celebration and perseverance. However, there were some songs that were added after the events that have transpired lately, including the pandemic and social justice issues in today's society.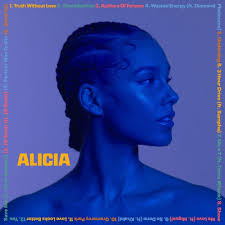 The album starts out with Keys slightly exasperated, as she feels that "You can't understand me is an understatement". As she has fallen into the public eye as a result of her celebrity status, Keys wonders if she is still "the girl you knew before she came up". She continues this lost theme for the first few songs, until her story ties together and she attempts to inspire through her song "Underdog". By telling the tale of her childhood in Hell's Kitchen (a neighborhood in New York City), Keys stresses how her odds were slim to none. This song is a highlight of the album and is a song that goes out to all of the "unsung" heroes, who deserve more recognition. Although the track was recorded before the pandemic, it takes on a whole new meaning now. The hard work of doctors and other essential workers does not go unnoticed, and Keys exemplifies that in this song and album as a whole.
Throughout my listen to this album, I felt slightly disappointed by the features on it. Although some artists like Miguel and Khalid came through with pretty solid vocal performances, no features were truly special. I was especially disappointed by the very short feature from Tierra Whack. Alicia Keys and Tierra Whack would have served as a nice duo, with each one complimenting each other, but the final product fell a little flat. I thought that Whack's verse was honestly kind of wack, and she was noticeably much louder than Keys, overpowering her in the song. The problem is that the song felt a little out of place with the tone of the album in general. Although I think it was a nice idea to include a different type of genre on the song, it did not come through for me.
Coming back full circle, Keys finishes her album with the song "Good Job". As mentioned before, this is one of the few songs added after the pandemic. It thanks everyday people and continues the theme of perseverance and dedication that we see throughout the album. This was a beautiful touch and made the album tie together. In comparing herself to the everyday people in the country today, Keys gives them hope and also assures them that she was once in the same place as they were. To me, the album shows that Keys has not lost a step and is still producing quality work with great subject material, even on her seventh studio album.
Final Rating: 8