James Robinson Player Profile
By Connor Franco
Orchestrating three 100 all-purpose yard performances, undrafted rookie James Robinson put the league on notice.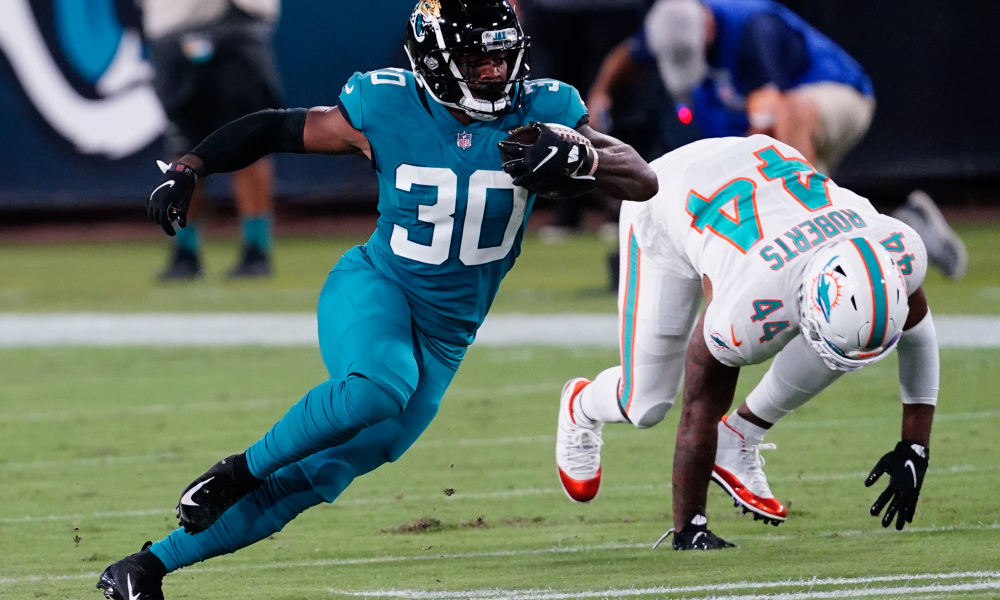 After not being selected in the draft, the Illinois State running back signed with the Jacksonville Jaguars. Through his first four weeks, the back has already won offensive rookie of the month. His performance this offseason allowed the Jags enough security to release running back Leonard Fournette, who later signed with the Tampa Bay Buccaneers. Fournette was the Jaguars fourth overall pick in the 2017 NFL draft. With over 400 total yards through the first four games this season, the rookie has proved his worth on the field.
   Beginning his football career at Rockford Lutheran High School, James Robinson was already turning heads. Robinson totaled 4,482 rushing yards on only two years on varsity. In 21 games played on varsity, Robinson totaled 83 touchdowns. Lighting up opposing defenses, Robinson put two colleges on alert. He received offers for college football by University of Iowa and Robinson's hometown team Illinois State. Robinson chose the hometown team over the Power 5 school. Robinson finished second all-time at Illinois State in all-purpose yards and total touchdowns.
| | | | | | | | | |
| --- | --- | --- | --- | --- | --- | --- | --- | --- |
| STATS | ATT | YDS | AVG | TD | REC | YDS | AVG | TD |
| Regular Season | 85 | 362 | 4.3 | 3 | 23 | 207 | 9.0 | 1 |
| Season (Projected) | 227 | 965 | 4.3 | 8 | 61 | 552 | 9.0 | 3 |
Even with his impressive resume, Robinson went undrafted in the 2020 NFL draft. The Jaguars picked him up post-draft, and haven't looked back since. The rookie exploded in training camp, and moved his way up the depth chart after running back Ryquell Armstead got injured. News came out that the Jaguars were trying to trade running back Leonard Fournette, and after many failed trade attempts, Fournette was released. After Fournette was released, James Robinson took over the lead role. In his first game against the Indianapolis Colts, he rushed for 62 yards, but his highlight of the day was when he hurdled a Colts defender for a 28 yard gain. Since then, Robinson has totaled 333 rushing yards and three touchdowns, averaging 4.6 yards per carry.
In his first month of play, Robinson won Pepsi Rookie of the Month. The rookie has also been highly touted by fantasy football players, with a 30 point performance already under his belt. Robinson continues to impress people across the league, many wondering how he went undrafted. With the Jags having a losing record, the team will likely try and use the promising running back even more in the near future.