Pasta secrets for the common cook
Though Thanksgiving is usually known for turkey and potatoes, you might want to give the world of pasta a try during the break, using Elliot's tips. Happy Thanksgiving from The Tiburon!
By: Elliot Kantor
Although pasta is often the first thing that new cooks learn, it doesn't have to be the simplest. There's a whole lot more to it than throwing some spaghetti in salted water. By learning the ins and outs of the world of pasta, you'll find a new appreciation for the food and you may just become a better cook.
I hate boiling water. It takes so long, uses so much water, and the alternative is just as good. Many like-minded people are beginning to realize that you can make great – even better – pasta with much less water and time. The technique is this: put dry pasta into a pot. Cover it with water and add a pinch of salt. Bring to a boil and remove from the heat when it's your desired doneness. The two important things to note here are that the water needs much less salt (almost all of it is absorbed by the pasta) and the pasta will be stickier. Since the pasta has excess starch on its exterior, almost all of that stays with the pasta when you use a small amount of water, whereas most of it goes down the drain with the older technique. But this is a good thing! Typically, you want a cohesive, emulsified sauce (where the water and fats are blended and not separate or greasy), which can benefit from thick, starchy water. Okay, now you know another way to cook pasta. But what about fresh pasta?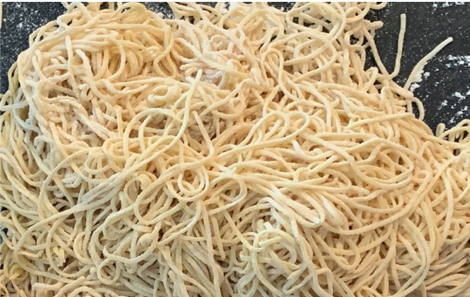 Pasta Protip!- how to cook simply
"Put dry pasta into a pot. Cover it with water and add a pinch of salt. Bring to a boil and remove from the heat when it's your desired doneness."
Making fresh pasta actually made me want to learn to cook. It's so much better, in my opinion, than its dried counterpart, and it's not terribly difficult. The basic ratio is one cup of flour to two eggs and a pinch of salt, but you can substitute water to make it vegan. Beat everything together into a dry dough and let it rest in the fridge for as long as you want. Then, you could try Adam Ragusea's technique for easy pasta, or roll it thin and cut it into strips. Boil for a few minutes, add to a sauce, and serve! You don't need a pasta roller or cutter, but if you have one, it might make it a bit easier. Finally, I'll introduce my favorite pasta recipe, a stripped-down version of Pasta Aglio e Olio, best known for its starring role in the movie Chef.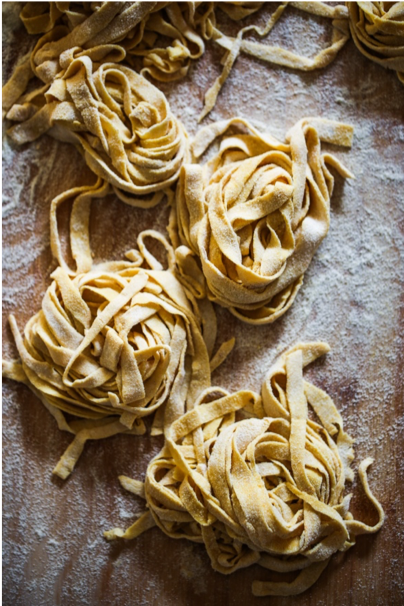 Pasta Protip!
Fresh pasta is easier to make than you'd think!
This is my favorite pasta recipe. It's quick, easy, and really delicious. It's also lacking many of the ingredients of the original recipe, which already only has a handful of ingredients. The recipe is as follows: Set some pasta to boil. I usually do dried because I'm not made of time, but fresh would work great, too. As that's coming to heat, slice a whole bunch of garlic (we're talking, like, 6-10 cloves) into slivers and add to a cold pan. Cover with olive oil and set to medium heat or so. Depending on when the pasta is ready, you'll want to adjust the heat so the garlic never really browns more than just the edges. Add some pepper and/or red pepper flakes to toast in the oil and wait for the pasta to be about al dente. When it is, add the pasta to the oil and garlic and a bit of that starchy water. Vigorously mix everything (careful of hot oil) and add salt and pepper to taste. In the real recipe, you add chopped flat-leaf parsley and lemon juice, but I usually omit them in the sake of laziness. If, for some reason, you didn't add enough garlic, you can always add garlic powder, but fresh is better. Serve in warm bowls with a vegetable and protein, and you have a meal!
Here's a bonus tip: if, for some reason, you want to eat buttered noodles, at least take the time to emulsify the butter with the water. All that means is to add cold butter and vigorously stir constantly until everything is a cohesive sauce, not a noodle covered in butter fat. Season with salt and pepper and serve.